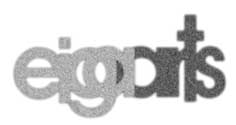 presents
the
Tojin-machi Independent Film Festival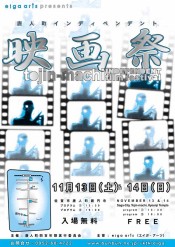 As part of the celebrations for the 400th anniversary of Tojin-machi, EIGA ARTS presents a two-day festival of independent films from America and Japan. San Francisco filmmaker, Scott Stark, has been invited to show his own work and introduce some of the best recent films from the USA. Tokyo filmmakers, Onishi Kenji and Yamada Isao will also be present to introduce their own work and a selection of the best independent films from around Japan.
The festival is free and will take place over the 13th and 14th of November in Kyoenji temple, screening four programmes of short films at 1.30pm and 7pm each day.
EIGA ARTS is Kyushu's most active underground cinema, screening avant-garde, independent and experimental film from around the world, each month in Saga City.
Interviews with Onishi Kenji and Yamada Isao can be arranged prior to the festival. Interviews will be available with all filmmakers throughout the festival weekend. Preview tapes are available prior to the festival.
For information in English call: 090 7165 9998
For information in Japanese call: 090 8761 3041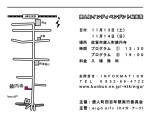 click the map for directions
---
Tojin-machi Independent Film Festival Programme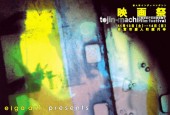 November 13th
1:30pm
Programme one
Immer Zu

Janie Geiser
Glass: Memories of Water

Leighton Pierce
Alone: Life Wastes Andy Hardy

Martin Arnold
Floating by Eagle Rock/She is Asleep

Konrad Steiner
Secure the Shadow

Kerry Laitala
The Snowman

Phil Solomon
I'll Walk with God

Scott Stark
Tuning the Sleeping Machine

David Sherman
92 minutes
***
Programme two
7.00pm
Celluloid Memories

Onishi Kenji
Short Summer Collection :

Soul Mouth; Air Head; Sleep; Waterbed; Window.

Onishi Kenji
Monochrome Head

Ito Takashi
POACHED FILM

Sueoka Ichiro
Showa Showa

Kurokawa Michiko
Myself Timer

Okuyama Jun'ichi
Anala

Manjome Jun
90 minutes
***
November 14th
1:30pm
Programme one
Fragment of The Night

Yamada Isao
Sad Gadolf

Yamada Isao
GESTALT

Ishida Takashi
Killer Camera

Serizawa Ichiro
Incorrect Continunity

Ota Yo
Cloned Chromosomes

Tachibana Kaoru
Industry and the Sex Doll

Shirao Kazuhiro
88 minutes
***
Programme two
7:00pm
if you stand with your back to the slowing of the speed of light in water

Julie Murray
The Sound of His Face

Scott Stark
Marietta's Lied

Lewis Klahr
Home Stories

Mathias Müller
Mercy

Abigail Child
Little Lieutenant

Henry Hills
Horse/Kappa/House

Abraham Ravett
89 minutes
---