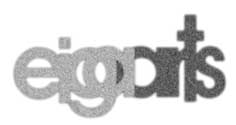 presents
The Trials & Errors of Joss Winn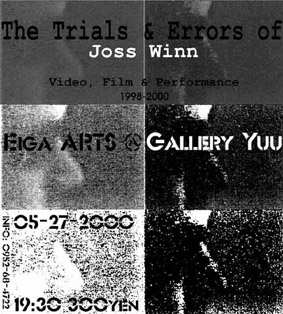 Video, Film and Performance
1998-2000
---
Thinking and Bathing
VHS, Sound, 12 minutes, 1998
About the impossibility of knowing another person.
Heat and Noise
VHS, Sound, 15 minutes, 1998
A day with the KKK.
WAKATTA
VHS, Sound, 4 minutes, 1998
WAKATTA is about the impossibility of knowing.
D I Y
Super 8mm, Sound, 10 minutes, 1999
I wanted to make a home movie, or rather, I wanted to make a 'home'. For the past four years, I have lived in three countries and eleven? houses, always with the next place in mind. This period in Japan is the first time I have stayed in one house for more than six months. Yet, with the transience of the last four years I am still unable to distinguish between thinking, remembering and seeing. When was I last at home? Am I at home now? I'm not sure what to look for.
I wanted to experience the ordinary comforts one finds in one's 'home country'. Living abroad, I think I have deprived myself of the familiar, mundane, banal and ordinary-every-day, to the extent that I am unsure of what it looks like. Perhaps in D.I.Y., I will find something ordinary.
D.I.Y. is a 'home movie' in the literal sense too. It was shot, processed and edited in and around my house. Most of the shots are external and the brief time I went inside resulted in a confused, almost violent scene of domesticity.
Worn Out
Super 8mm, Silent, 3 minutes, 1999
A performance/portrait of myself left to chance.
Jo Likes to Sleep but Joss Likes To Listen to Music in The Morning,
Super 8mm, Silent, 3minutes, 1999
Jo Likes to Eat Slowly but Joss Likes to Eat Quickly
Super 8mm, Silent, 3minutes, 1999
Sadness : A song of the Sea in a minor key.
Super 8mm, Silent, 3minutes, 1999
These Are the Views I Can Recall
Super 8mm, Silent, 10 minutes, 1999
Mum and Dad Use A Window
Super 8mm, Silent, 3 minutes, 1999
For Dad: Movements That We Missed
Super 8mm, Silent, 8 minutes, 2000
If You Go To Okinawa, Head North
16mm, Silent, 6minutes, 2000
---
Gallery Yuu 3F
Saturday 27th May
7:30-9pm
300YEN
Info@ 0952-68-4722
---