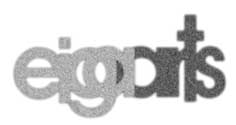 presents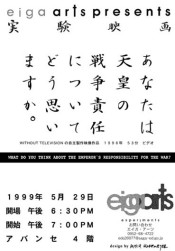 CHANGE THE CHANNEL!!!
Japanese Video Activism
May 29th 7pm
AVANSE 4F, Saga City, JAPAN
"...the Japanese avant-garde has continued to be motivated by leftist opposition against authoritarian orthodoxy in Japanese society - in particular the emperor system (tenno-sei) and its mandates of patriarchy and social conformity, political harmony and personal sacrifice." (Alexandra Munroe, Scream Against The Sky, Japanese Art After 1945, 1994)
Main Programme
WHAT DO YOU THINK ABOUT THE WAR RESPONSIBILITY OF EMPEROR HIROHITO?
Yasukuni, 08/15/1996
(Japanese with English subtitles)
53mins
WITHOUT TELEVISION Vol.3
by Tsuchiya Yutaka
"In Japan, it is still a taboo to criticize the Emperor system. In fact many civil movement groups which assert the abolition of the system are under pressure by the police and Right wing organisations. The public remain silent and impose their own deeply rooted self-restraint on the matter. The mass media provide hardly any critical information on the Emperor System. This video faces this taboo directly. It consists of many interviews asking, "What do you think of the war responsibility of the Emperor?" Strangely enough, the reality is that even a simple question like this is never asked in Japan.
The interviews were made on August 15th, 1996 at Yasukuni shrine. August 15th represents the end of the second world war for Japan. Yasukuni shrine is a so-called Îholyâ place to enshrine the souls of those killed in the wars since the late 19th century. It enshrines the aggression of war, based on pre-war nationalism and Shinto ideology. It has been visited officially by Japanese politicians, provoking embarrasment among neighbouring Asian nations and aggravating foreign relations.
The shrine is also visited privately by many bereaved families and ex-military men on August 15th every year. I interview these people, wondering what they really think of the war. Rather than the elites and intellectuals, what are the feelings towards Emperor Hirohito of ordinary citizens who acted in the last war? You will see opinions previously hidden deep in the hearts of the Japanese people.
This video was edited digitally on a Mac. It shows parts of the TV news on the day of August 15th 1996 and fragments of documentary films all of which I use to criticise the mass media." (TY)
Followed by...
HUMAN RIGHTS FOR JAPANESE RAILWAY WORKERS
English Version
16mins
1996
Video Press
The history of the 36 Kokuro struggle groups. 1047 Railway workers were fired simply because they were Kokuro union members, and they have been fighting against their dismissal for ten years.
KAROSHI
(Death from over-work)
English Version
31mins
1993
Ogawamachi Cine Club
The number of deaths form overwork reach ten thousand a year in Japan, equal to that of traffic accidents. Millions of people are working more than 3000 hours a year are also on the threshold of Karoshi. As Japanese working practices are emplyed by foreign countries, Karoshi is becoming a global problem.
---
This month is a diversion from the usual programme of experimental film and video. Eiga Arts proudly presents an evening of alternative Japanese video activism. All videos are from VIDEO ACT!, Japan's leading distribution source for video activism of all kinds. Their on-line catalogue (English/Japanese) is a superb resource for anyone wanting to find work and contact various activist groups in Japan.
I'd also be glad to help with any enquiries.
---