I recently finished making my second guitar, a 'flamenco blanca', or a traditional, lightweight, nylon-stringed guitar made from Cypress, Spruce and Cedar. It largely follows Courtnall's 1950 Barbero plan, but with an eye on Courtnall's 1933 Santos Hernandez plan and Brune's 1951 Barbero plan, too. Studying the three plans offered a great deal of information about what makes a traditional flamenco guitar sound the way it does and the different design choices available to the maker.
I also studied Gore and Gilet's books for any references to flamenco guitar design and found their analysis of six vintage flamenco guitars to be extremely useful. It gave me a couple of key design goals: to build an instrument that weighs around 1100g and with air and top resonances within the ranges they identify.
Finally, I wanted the sound of the instrument to be very dry and percussive with a loud, short, 'cut' when appropriately played. I also like to hear the strings buzz under the control of the player. This video of luthier, Richard Brune, playing a 1970 Manuel Reyes guitar has been a constant source of inspiration:
I built this guitar for myself, wanting to learn to play flamenco but not having an instrument designed for that style of playing or sound. The first guitar I made, a contemporary classical design, is completely unsuited to flamenco. As Gore and Gilet write in their book:
"The flamenco 'cut' is provided by the high mobility of the top, which contributes to high excursions of the soundboard and the necessarily low sustain relies on air damping and energy diffusing into the low mass sides and back via an impedance matched top and sides junction; exactly the opposite of our objective for all other types of guitar." (p.1-91)
Based on their analysis of six vintage instruments, Gore and Gilet suggest that a good traditional sounding flamenco guitar will have an air resonance below 100Hz and a top resonance of around 180Hz (between F and F#) or around 190Hz (between F# and G). They suggest a bridge of no more than 15g, back and sides that are no thicker than 2mm and an overall weight of around 1100g.
Throughout my time making this guitar, I kept an eye on the weight and density of every piece of wood, as well as the overall weight as it came together. The soundboard is made from Engelmann Spruce, thinned to 2.5mm in the lower bout area. The bridge is Madagascan Rosewood, weighing 15g, the Cypress back and sides are 2mm and 1.5mm respectively. The beautifully figured fretboard, head veneer, binding and pegs are all rosewood. The finished instrument with strings and golpeador weighs 1119g, has an air resonance of 88.15Hz (F2 +16.62 cents) and a top resonance of 189.76 (F#3 +44 cents). 1 Here's a graph of the tap tone data: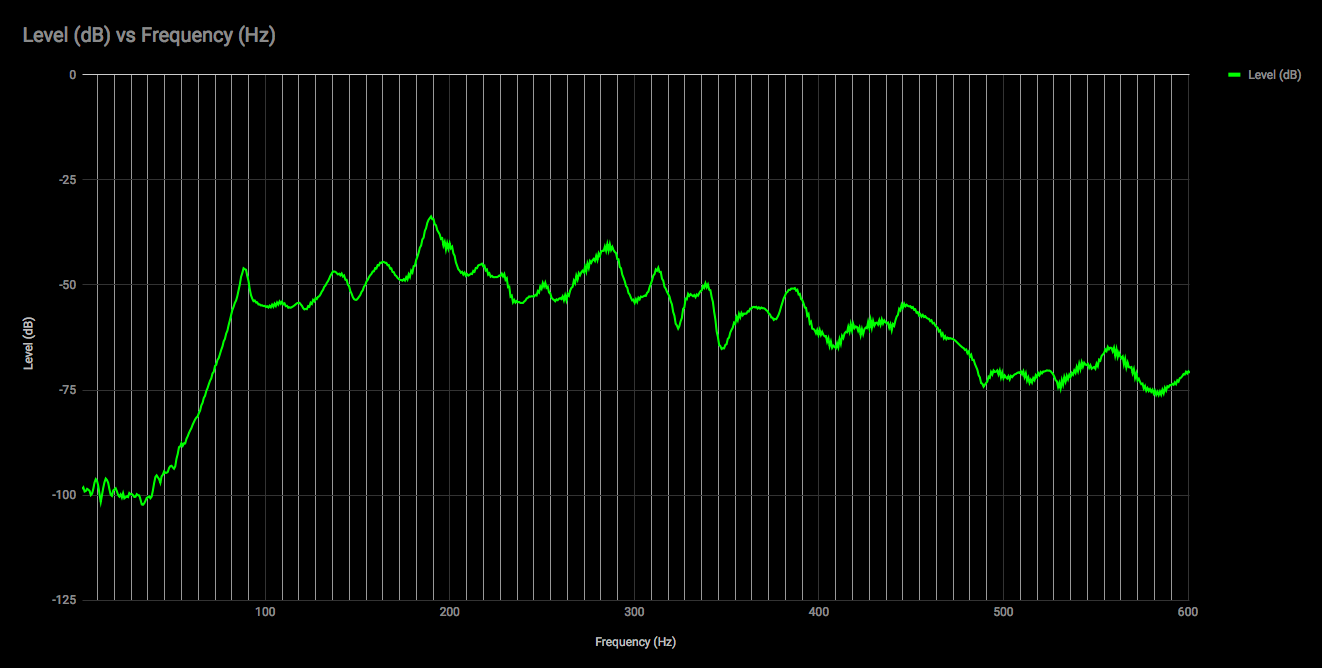 And here's the finished instrument.
I'm pleased with the outcome and the instrument sounds as I had hoped it would. Of course, the workmanship could be improved and I made a number of small mistakes along the way that needed rectifying, especially early on. The main thing I wish I had rectified in the build process is the saddle height. I had drawn out the guitar beforehand to determine the string height and neck angle and opted for a flat (no angle) neck, a scale length of 660mm and no fretboard tapering. I calculated that I could get a saddle height of 9mm and action at the 12th fret of 2.25mm.2 However, the finished setup is a saddle height of 10mm and an action of 2.25mm.3
The whole experience made me realise that although it was my second guitar, it was in fact the first guitar I was making on my own without direction and supervision from a teacher. In craft work like this, the experience of having to think for myself, face my own errors of judgement or execution and learn how to correct or live with my mistakes, was part of the process of learning, as well as a useful source of humility. Even with all of the detailed plans and scientific information at hand, I still had to rely on my own intuition and relatively inexperienced feel for the wood and tools. Fortunately, I've been asked to make the same guitar for someone else and so have the chance to improve on the same design.
I tested this again a few months later, having played the guitar in, shaved more wood off the neck and refretted it. The resonance changed to 92.189Hz (F#2 – 5.8 cents) and the top is 191.78Hz (G3 -37.6 cents)